Skiing at Snow Farm NZ - A great novice option
We had family staying for the school holidays and decided to do the obligatory family day trip to the snow. Considering the potential school holiday massive crowds at Cardrona and Treble Cone, we decided to try something completely different and head to the Snow Farm NZ.

We left at a leisurely 10am from Wanaka and in under an hour we arrived the Snow Farm. There was no "mountain" traffic to speak of and we arrived to a carpark with only around 50 parked cars total.
Snow Farm NZ is New Zealand's premier cross country ski-field, offering cross country trails, snow shoeing, sledding and dog sled tours. It has beautiful views, and a great team of staff ready to help.
Giving the kids time to play in a huge graded pile of snow, we headed in to see what our options were. We were greeted by a lovely warm team of staff who happily - and patiently offered us the range of options. We would have loved to have experienced the dog sled tours, but due to the size of our group decided to get lessons for us all and experience cross country skiing.
We had just over an hour to chill before the lessons started so decided to try the tobogganing and sledding. For a extraordinarily low $5 per person, the kids (big and little!!!) can head to a slope in front of the main building and take turns on the toboggans. This was hilarious and the adults soon joined in the fun. It was a really safe little area and all ages of kids were having an absolute ball.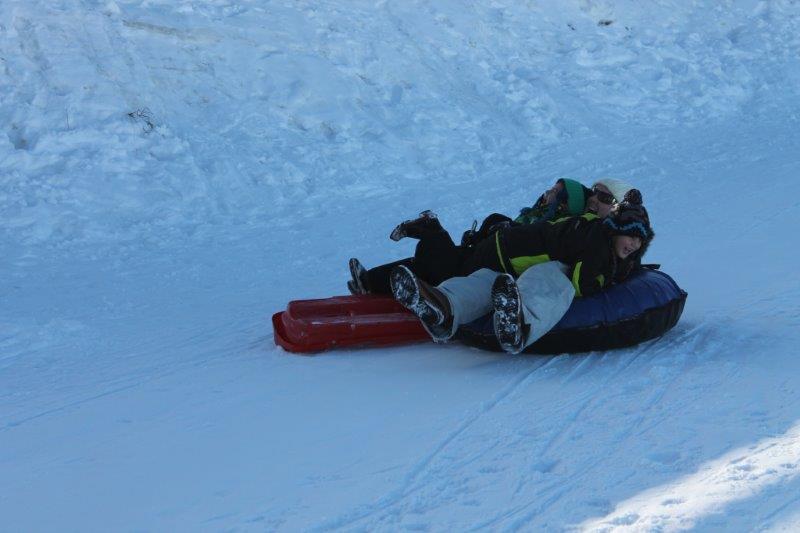 We eventually dragged ourselves and the kids away for lunch before lessons. There is a guest bar/coffee area but no real cafe facilities at the Snow Farm, which we knew in advance, so we came prepared with plenty of food, filled rolls, still warm bacon and egg pie - thanks mamma!!!!, fruit and muffins stomach's full we were ready to go.
Again we met up with a gorgeous team of staff who got us painlessly through the boot, ski and pole allocation and we were ready for our lessons. We were all pretty much beginner or novice skiers and I am amazed how easy it was to get going. The grooved tracks are great for keeping kids in line (oh and me too!!!) and heading in the right direction. The whole group picked it up really well except for Cory our wee 5 year old who fell more times that I can count. I was hanging back with him until one of the wonderful, patient and funny instructors came back for us and relieved me of my responsibilities. This gave me the opportunity to get another loop of the beginner tracks under my belt. I was able to lap Cory and he was just having the time of his life with his then "private instructor"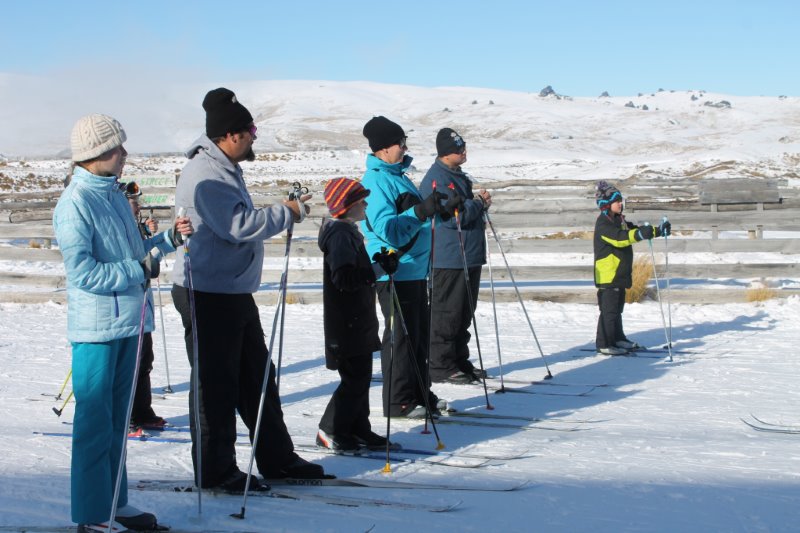 We skied until it was time to eat what was left of our lunch and packed up in time to leave the mountain to collect our youngest from preschool.
Prices were very reasonable with lessons, gear and trail passes $90 per adult and half price for the kids. Snow Farm offers occasional half price and specials days so it pays to follow their Facebook page and keep up to date with their news and offers. As I said before, we will definitely be going again to experience the husky dog tours, as this is definitely something we would love to do. All in all this day was a very very special family day, thanks Snow Farm NZ we will be back :)